Our second day in Beijing began with a tour of traditional hutongs (narrow and winding streets with distinctive style houses) on a pedicab. This was the most awkward thing for me so far, as I feel VERY uncomfortable being pulled behind a bicycle driven by a person! Fortunately our driver didn't look TOO emaciated, so that was ok, we also walked a fair bit of the way ourselves.
We drove around the narrow alleyways for a while, then stopped at one of the houses. Once a home of officials, now a family home and B&B, the dwelling consists of 4 buildings around a central courtyard. The courtyard is filled with trees and animals, although the animals are birds in a cage and fish in a bowl. There was a couple of free sparrows around though, and our local guide tells us that the sparrows have only recently returned to Beijing.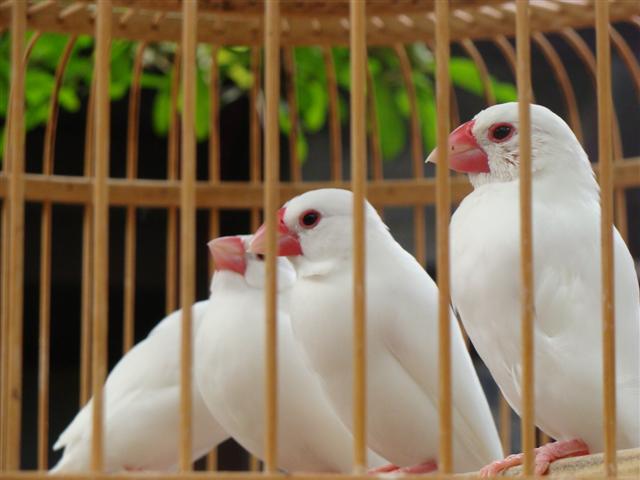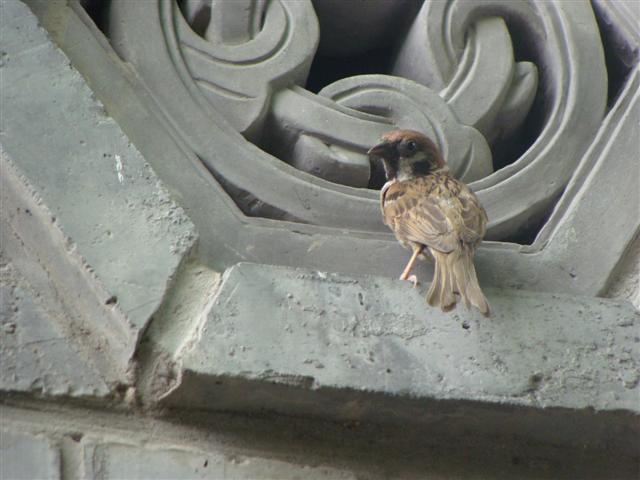 The wildlife tracking continued on into the afternoon. After lunch, we took a drive out of town for a couple of hours. As we were just about to climb a rather large hill, Nathan spotted something small on the ground: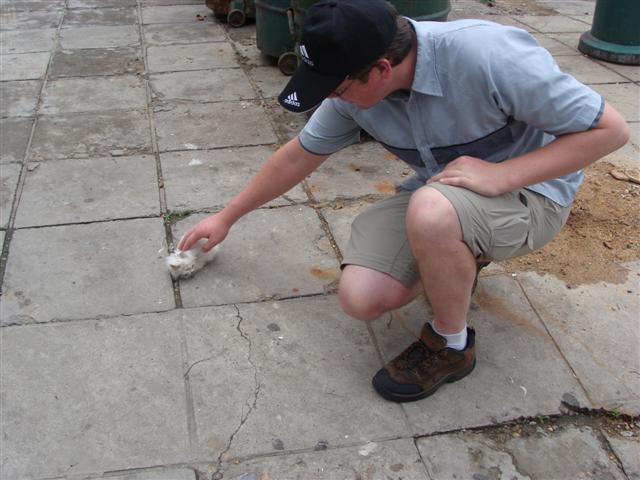 Yep, that's a tiny, tiny white kitten. Totally starved, shaking, but still able to move and purr when we touched it. It was so sad to know that it would probably be dead in a day or two, but we just couldn't bring it home with us! So we reluctantly left it to it's fate.
After looking up that large hill, walking about 50m up, we decided we would catch the cable car. Wise move, as it turned out, even the cable car took a long time to get to the top! Once at the top…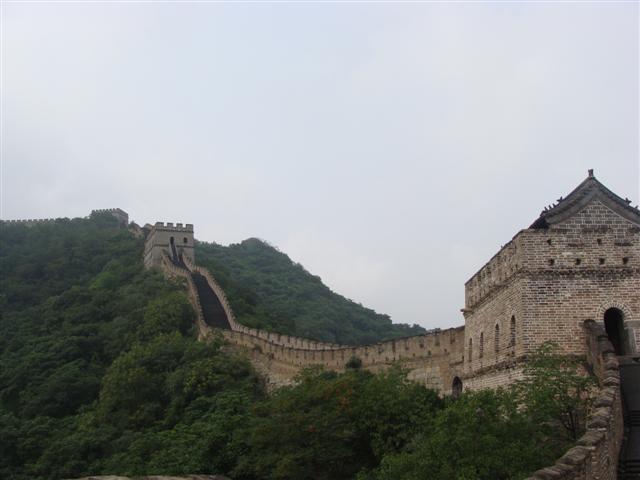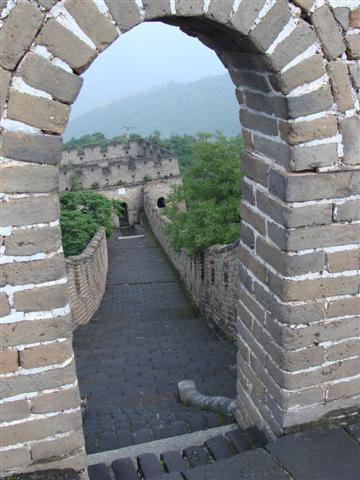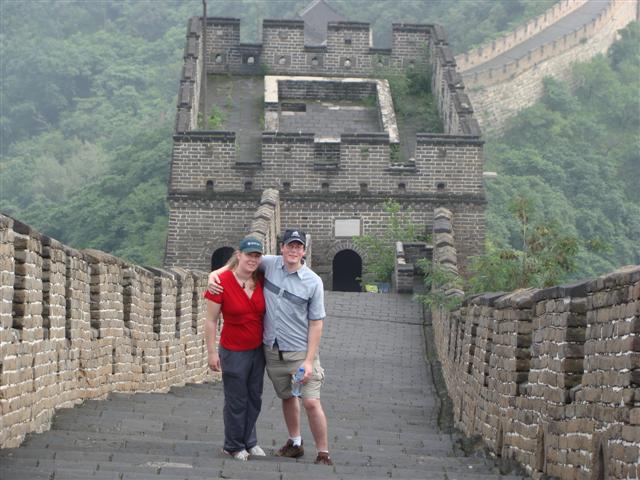 Mutianyu is a restored section of the Great Wall, however it has the added bonus of not being as crowded as the main section, Badaling. There are a few steep bits, however it is generally easy to get around. Honestly, this was the most incredible experience for me – totally surreal to be standing on the Great Wall of China! We were just blown away by the scale of this defence structure. Nathan climbed to the highest point of open walkway – I stayed at the bottom to record the ascent.
The scale is a bit hard to get across – but this was taken on full zoom on my camera (10x) and it was a REALLY long way up! And that IS Nathan standing at the top, I promise!
After some more walking, we reached our transportation DOWN the hill. No nice, sedate  cable cars this time, NO, toboggan it was! Nathan raced on down the aluminium slideway – I took things a little slower (ok, a LOT slower) but it really was quite fun! Once at the bottom, it was time to head back to the city again for Peking Duck dinner. Interesting meal, felt sorry for the duck cooked in it's entirety, but it was ok. Then back to the hotel to recover and get ready for the next day!