Today was Nathan's birthday!!! So before we continue:
Happy Birthday to you,
Happy Birthday to you,
Happy Birthday dear Nathan,
Happy Birthday to you!
Ok, moving on! Today's excursion's took us on several LONG drives all over Beijing. The first stop was the Summer Palace, where the Imperial Family would go to escape the oppressive summer heat in Beijing. Don't know what it felt like for them, but I thought it was still pretty warm! The centrepiece of the Palace is the massive lake in the middle. I would put a picture up, but it was so foggy and hazy none of them really show what it is like! Lots of paddleboats available for hire, and even a boat that caught on fire while we were there. The artwork around the Palace and inside the buildings was just as ornate as in the Forbidden City, although the pictures were a bit more decorative here.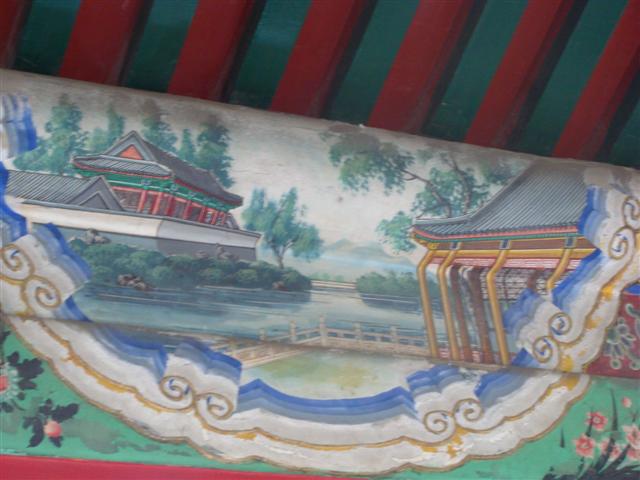 We didn't spend long here at all, as we had to start driving again. About 2.5 hours later, we reached our destination, only to be presented with the scariest, most terrifying experience of our trip to date (edit: hoilday is now 3/4 over, and this was STILL the scariest part!).
The Jinshanling Cable Car is the ricketiest, least stable looking, highest, attached by nothing at all cable car that I have EVER seen! These tiny little cars seem to be suspended from the cable by little more than a bolt, and if you lean too far in one direction, it may just fall off! Something which Nathan delighted in telling me all the way up… "If we fell here, we'd probably die". So I sat as still as I could, FREAKING out quietly (ok, not so quietly) while Nathan took photo's of the drop, and of my face (which will NEVER see the light of day, don't even bother asking!).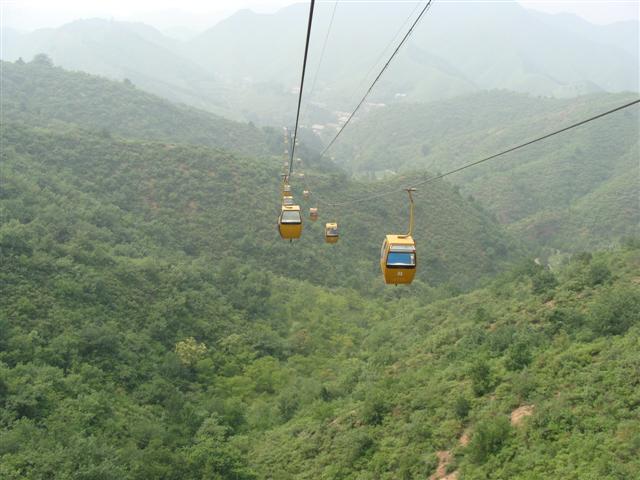 Once at the top, though, it was totally worth it. We wandered about 5 minutes along the top of a hill until we could climb up to the Jinshanling Great Wall. This is a mostly un-restored section of the wall, in a state of ruin. However, it was just stunning! The views out either side were amazing, and again, the history of what we were standing on was breathtaking.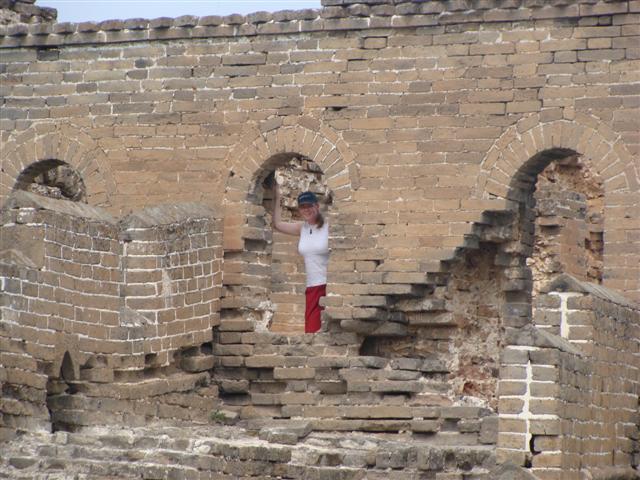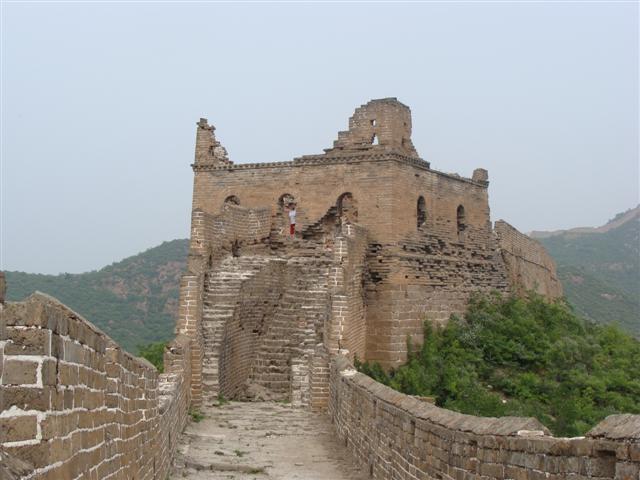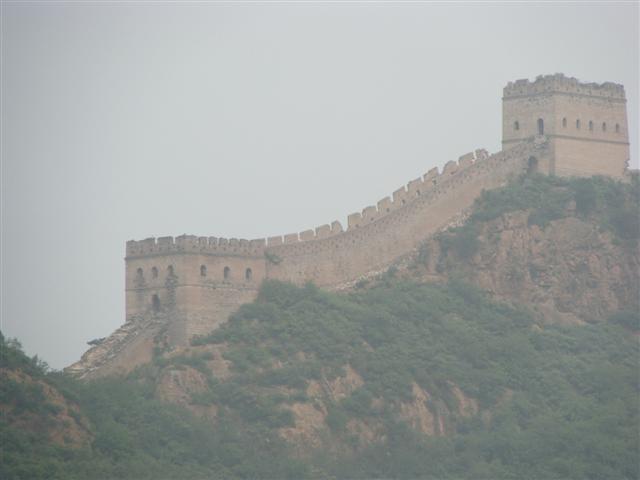 You can actually hike between this section of the Wall and another (Simatai), however, we were a bit shattered by now with all the walking! The tramp takes 3.5 hours if you're fast, and up to 5 hours if you're not, and we didn't have even 2 hours to spare. So back to the Death Trap it was!
The only downside to this experience was two creepy "local farmers" who followed us the whole way… knowing they were going to try and sell us stuff later that we didn't want was SO off-putting! It really put a dampener on the day, and we ended up leaving early to get away from them.
After lunch (at about 3pm) we headed back towards Beijing. Due to the Olympics, security for people entering Beijing is high, and we had to go through 2 security checkpoints. Complete with armed guards confiscating pieces of pipe, bomb detectors, and a traffic gridlock, all vehicles entering Beijing are thoroughly searched. We got pushed through quickly cos we were tourists though – THAT was funny to see our driver yelling out the window and being ushered through!
Eventually we arrived at Beijing West Rail Station to catch our train to Xian. We arrived somewhat early, and being nervous about trying to catch the train, our guide Jenny found us a friend of hers who was ushering another tour group onto the train. So, for a couple of hours, we joined up with a great group from Sweden! Followed the Swedish flag around and everything. It was great. Finally we found our way onto the train, and into our deluxe soft sleeper carriage (which means only 2 bunks instead of 4), an armchair, and a little bathroom just for us. A very nice way to travel!