On our first day overseas, we decided to go for a day trip to Macau. We got up early, found the subway, and got to experience the Hong Kong MTR for the first time. Auckland needs one of these! Found our way to the ferry terminal easily enough, and purchased tickets. Then through customs (Macau is a different country – we had to leave Hong Kong and re-enter again in the evening), and onto the TurboJet.
Arriving in Macau heralded the beginning of ALL our fun. No sooner had we left immigration, we were accosted by a man trying to get us to take a pedicab to the city. Not wanting to do this, we tried to get away, but somehow ended up facing the wrong direction and a little bit lost! We had a basic map in our Lonely Planet Guide, but it wasn't very helpful. We found ourselves a supermarket, bought water and some snacks, and then found a little garden to sit down in.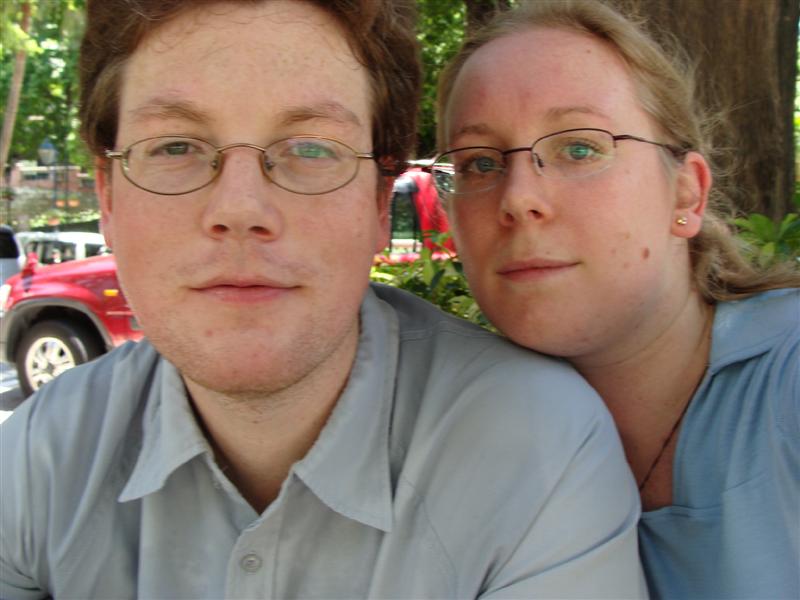 Found our way, but 5 minutes later we were promptly disoriented again. We must have looked quite stricken, and an English-speaking local gave us directions. Finally we found the start point of our journey!
Largo do Senado is a tiled square surrounded by Portuguese colonial buildings, in one of which is the tourist office with DECENT maps. The flags are part of the advertising for an International Youth Dance Festival being held in the city this week, and the displays are a competition for sculptures for the Beijing 2008 Olympics. Having got our hands on a decent map, we set off for the centrepiece of Macau's tourist trail – the Ruins of the Church of St Paul. Built in the early 1600's, a fire in 1835 destroyed the entire church, leaving only the facade and staircase.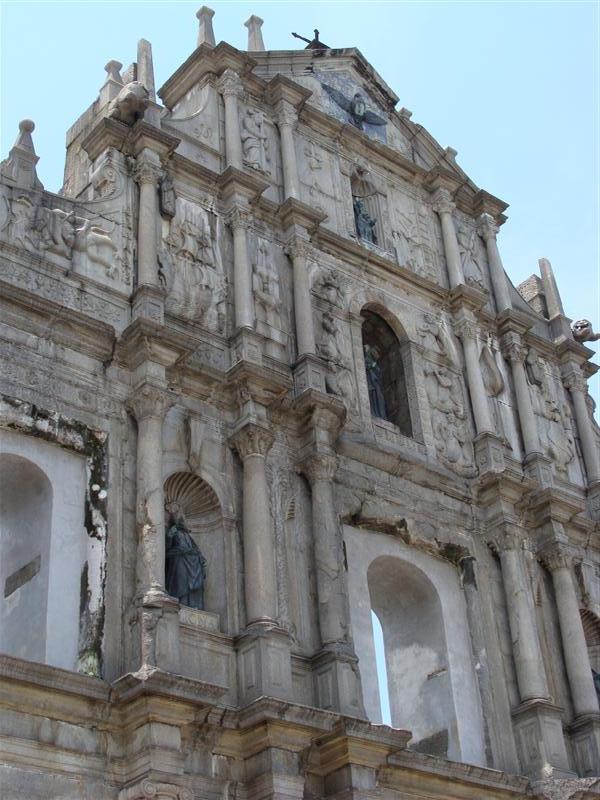 Next to St Paul's is Mont Fort, which houses the Macau Museum. Walking around the outside of the fort gave us good views over mush of the local district.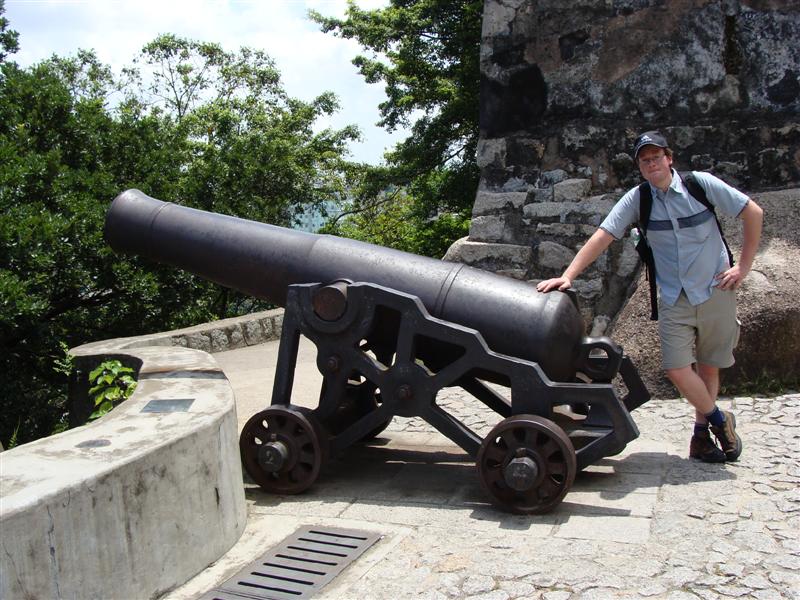 We then decided to go for a bus ride to see the islands of Taipa and Coloane. This turned out to be easier said than done when the bus drove right past and didn't stop! We found another bus about 15 minutes later, so all was not lost. The bus was a good way to see the "country-side", costing very little and travelling around the coast. We stopped at Hac Sa Beach, which the Lonely Planet Guide said was good for swimming. I don't know what the LP writers are used to, but that water is filthy! Plus by then it was pouring with rain, so we had a quick look and then back to the city for us. Another hour or so of wandering the side streets, then time to head back to the ferry for Hong Kong. All in all, a great day in Macau. Maybe we'll be back one day to see how it looks at night-time!